Thermometer for mobile phone MISURA - Android white (Micro USB)
Contactless infrared thermometer for mobile phones - after connection via the micro USB connector, or with reduction via the USB-C connector, it will start working immediately. No software installation required. More
Manufacturer: MISURA Product code: P21MW02 Shipping and Payment
MISURA contactless thermometer
The MISURA contactless thermometer is intended for measuring body temperature of children and adults. Therefore it is
suitable for use in households, companies, but also in schools and kindergartens. The contactless measurement significantly reduces the risk of bacteria passing from the thermometer to humans. Plus you can always have it with you. It is small, lightweight and works with any cell phone with
iOS or Android operating system.
Accurate measurement
The built-in intelligent sensor ensures very accurate and fast temperature measurement with accurate recognition of the human body surface.

Easy to use
Plug & Play. Without having to press any button, just point the thermometer at the center of the forehead and within one second the thermometer will measure the temperature with an accuracy of 0.1 degrees Celsius.
Comfortable reading
The thermometer is equipped with a large OLED screen. The high-brightness font is easy to read even for older people.
Highly safe performance
The product works on the basis of contactless measurement, which significantly increases safety.
Practical use
The mobile phone thermometer is small and light, easy to carry, so you can have it with you at any time.
Product parameters
Input voltage: DC 5V

Temperature measuring range: 32 ° C-42 ° C

High temperature audible warning

Adjustable values ° C - ° F

Measurement accuracy: ± 0.2 ° C

You can get accurate measurement results in just 1 second.

Measuring distance: 1-8cm

Phone connection: Micro USB

Dimensions: 49x27x12.5mm

Weight: 12.4g

Store at temperatures: 10 ° C-35 ° C
Individual parts of the c​o​m​m​o​d​o thermometer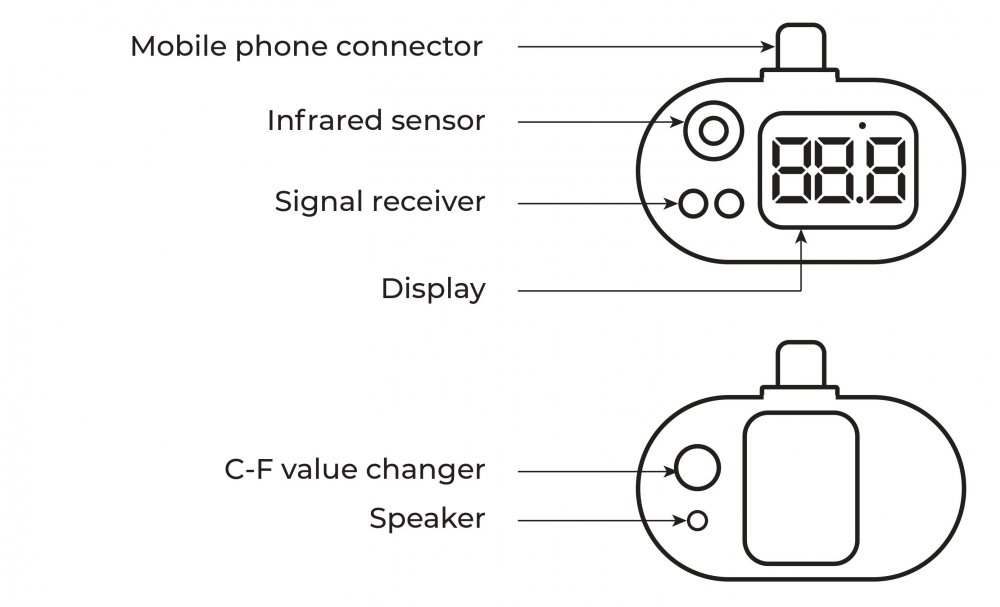 Parameters and smart features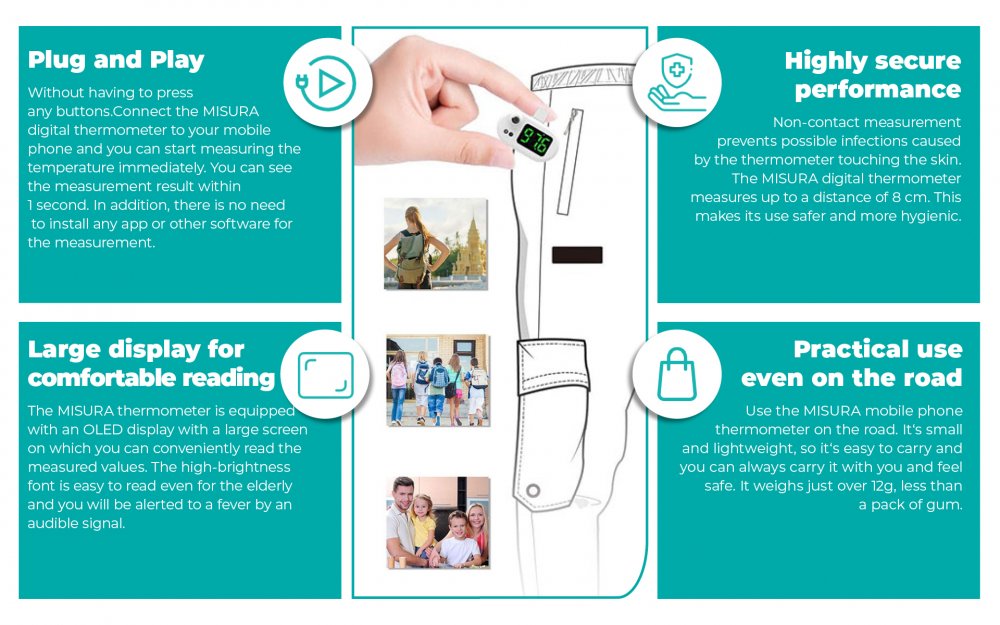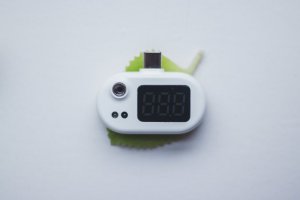 Plug the MISURA non-contact thermometer with infrared sensor into your mobile phone and you can immediately start measuring conveniently with an accuracy of 0.1 C°.