Thermometer for mobile phone MISURA - Apple white
MISURA contactless thermometer on the forehead for the mobile phone - 49x27x12.5 mm, works immediately after connection via the Apple connector or with reduction via USB-C, without the need to install any application on the mobile device. More
Manufacturer: MISURA Product code: P21AW02 Shipping and Payment
MISURA contactless thermometer
The MISURA contactless thermometer is intended for measuring body temperature of children and adults. It's therefore
suitable for use in households, companies, but also in schools and kindergartens. The contactless measurement without significantly reduces the risk of bacteria passing from the thermometer to humans. Plus
you can always have it with you. It is small, lightweight and works with any cell phone with operating
iOS or Android.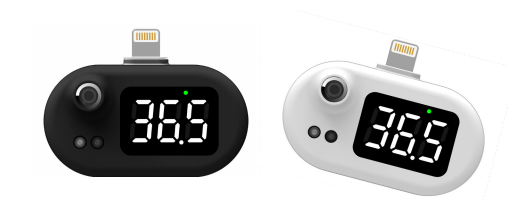 High accuracy measurement
The built-in intelligent sensor ensures accurate and fast temperature measurement. Automatically detects the surface of the human body and
displays the temperature with an accuracy of ± 0.2 ° C. It displays the temperature in degrees Celsius or Fahrenheit, in the range from
32 ° C to 42 ° C (89.6 ° F - 107.6 ° F)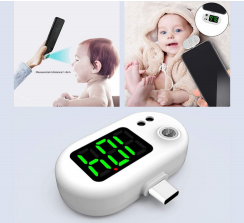 Thermometer with great features
Smart thermometer parameters:
• Input voltage: DC 5V
• Temperature measuring range: 32 ° C - 42 ° C
• Adjustable values ° C - ° F
• Measurement accuracy: ± 0.2 ° C
• Distance when measuring: 1 - 8cm
• High temperature audible warning
For everyday use
Simply connect the MISURA infrared contactless thermometer to your mobile phone using the Apple connector
or connector with reduction with USB-C. Then aim the thermometer at the center of the forehead and see the temperature height within one second.
Individual parts of the thermometer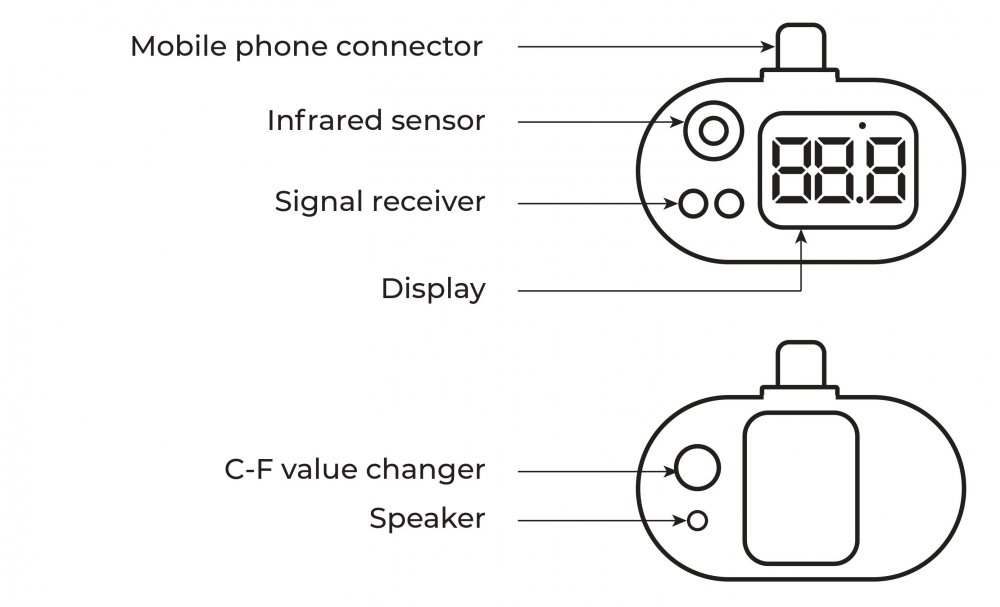 Parameters and smart features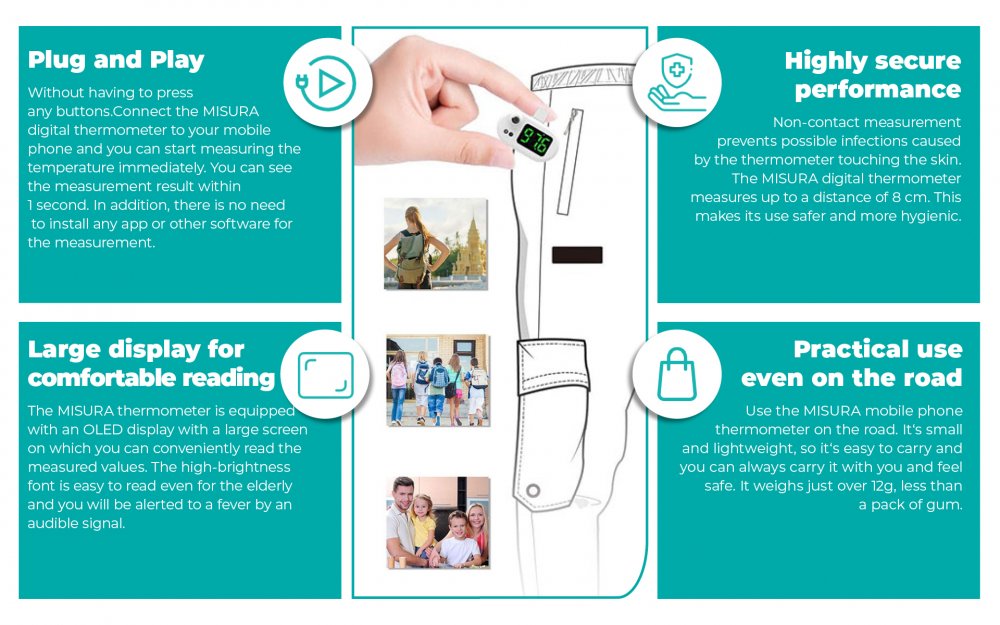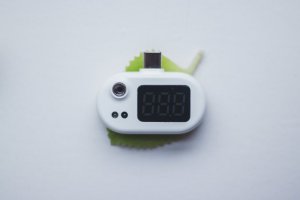 Plug the MISURA non-contact thermometer with infrared sensor into your mobile phone and you can immediately start measuring conveniently with an accuracy of 0.1 C°.