Massage gun MB1Pro, 25 x 7.5 x 22 cm, Operating time 8 hours, Battery Li-ion 2500mA, Package includes Massage device, 6x massage head, Power adapter, Case, Instructions More
Manufacturer: MISURA Product code: P21MB1ProBE Shipping and Payment
MISURA massage gun MB1Pro
Exercise and sports activity undoubtedly contribute to our physical and mental well-being.
Physical exercise should be followed by relaxation and thorough relief of stressed muscles.
In today's hectic times, sometimes there is no time left for this which can result in intense muscle fatigue, tension, and sometimes unpleasant pain.
MISURA brings a solution in the form of a MISURA MB1Pro massage device. It is a manual massage device that applies concentrated pressure pulses deep into muscle tissue.
These pressure pulses eliminate muscle nodules, help relax muscles, improve blood circulation and
rapidly increase the range of motion. Proper use of the massage gun can quickly shorten the time of
regeneration after exercise while reducing tension and possible muscle pain.
Proven effects and reliability
The MISURA massage device is designed and developed in
collaboration with a team of physiotherapists, spinal therapists and professors of ergonomics. Professional athletes were also invited to test the product.

The individual functions of the massage gun are constantly
subjected to further testing in order to achieve
optimal performance of the device and provide customers
the most effective form of muscle regeneration and a
professional massage experience.
The right impulse for your body
The MISURA MB1Pro massage device uses
pulsating vibrations contributing to an increase of the overall
body performance. Muscles can be stiffened and painful after exercise and limbs heavy and weak.
Using high-frequency vibrational stimulation
you will deeply release the fascia and thus get rid of the feeling of
tension and pain. The massage of nodal points and muscles
relieves fatigue and pain and overall muscle
discomfort.
Stronger, more relaxed, more powerful
Massage device MISURA MB1Pro:
• Accelerates muscle growth
• Increases muscle flexibility
• Helps accelerate muscle regeneration
• Releases and reduces the content of lactic acid in the body
• Improves and expands the range of motion
• Reduces pain associated with soft tissue damage
• Eliminates the occurrence of delayed muscle pain
• Improves blood flow
The MB1Pro massage gun is equipped with two modes - manual and SMARTmode. Switch between modes with a long 5s press of the button until all LEDs flash.
In manual mode, the speed is changed by repeatedly pressing the button briefly.
In SMART mode, the number of LEDs illuminated does not matter, the speed is adjusted automatically according to how much you push the head of the device.
Pistol and interchangeable head design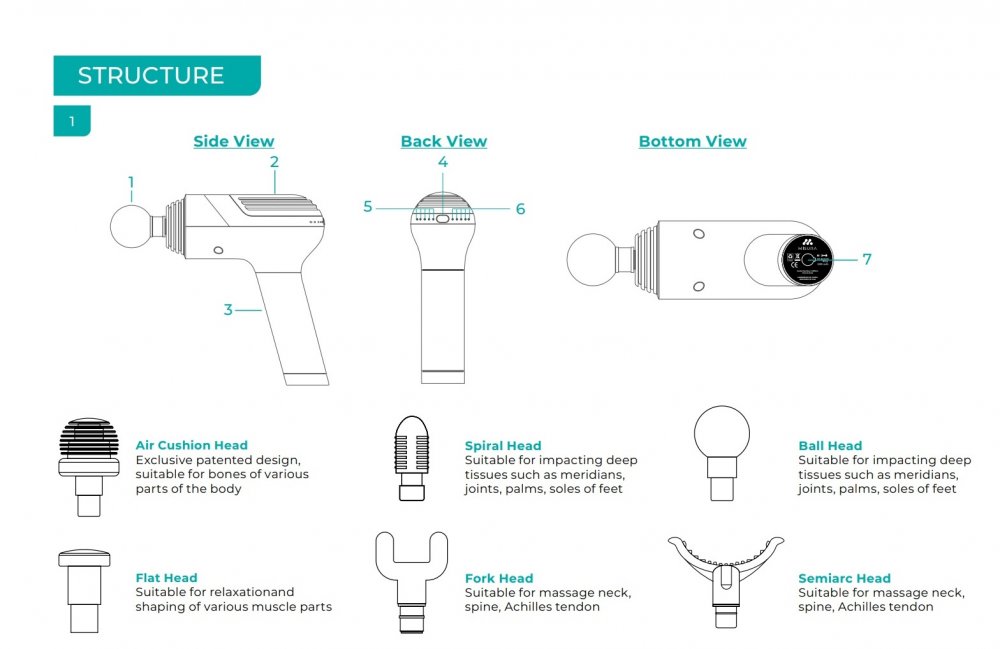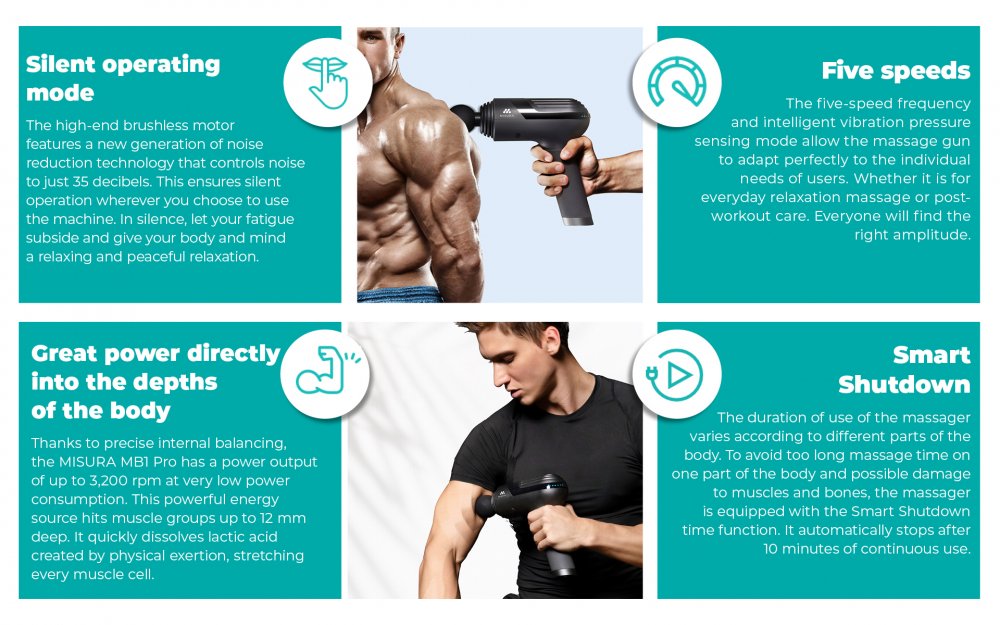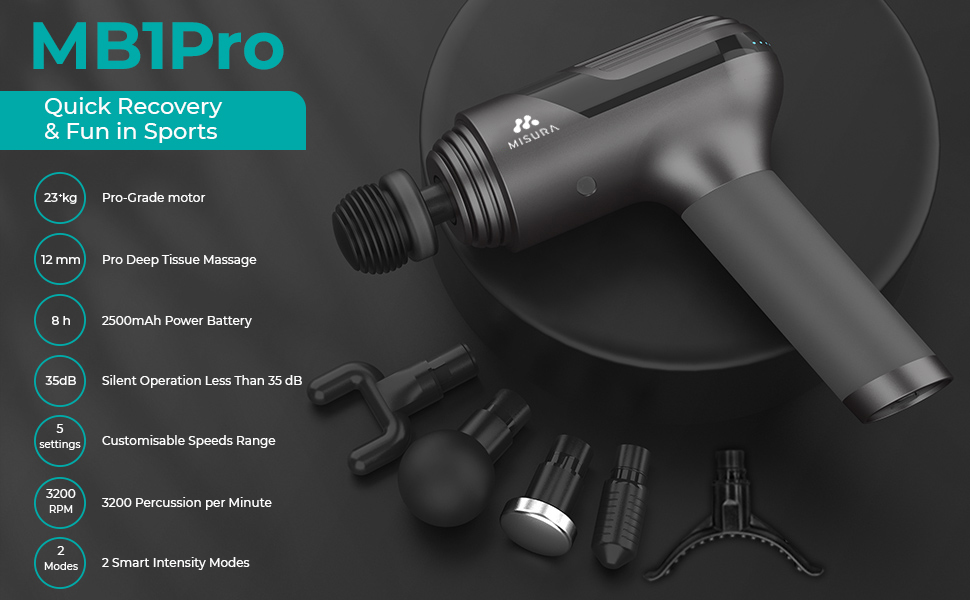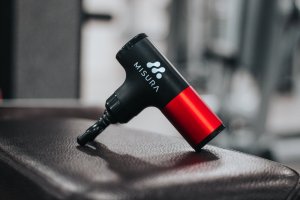 The MB3 and MB4 massage guns do a lot of work and fit in a small bag or coat pocket.