MA05- Mobile phone holder with vacuum suction cup and wireless charging QC3.0 - BLACK
Fully automatic holder with vacuum suction cup for fixed mobile phone mounting, with QC3.0 wireless charging function - patented technology. More
Manufacturer: MISURA Product code: P22WCH101B01 Shipping and Payment
Fully automatic holder with electric vacuum suction cup for fixed mobile phone mounting, with QC3.0 wireless charging function - patented technology
No more worrying about where to take your phone and where to charge it while driving.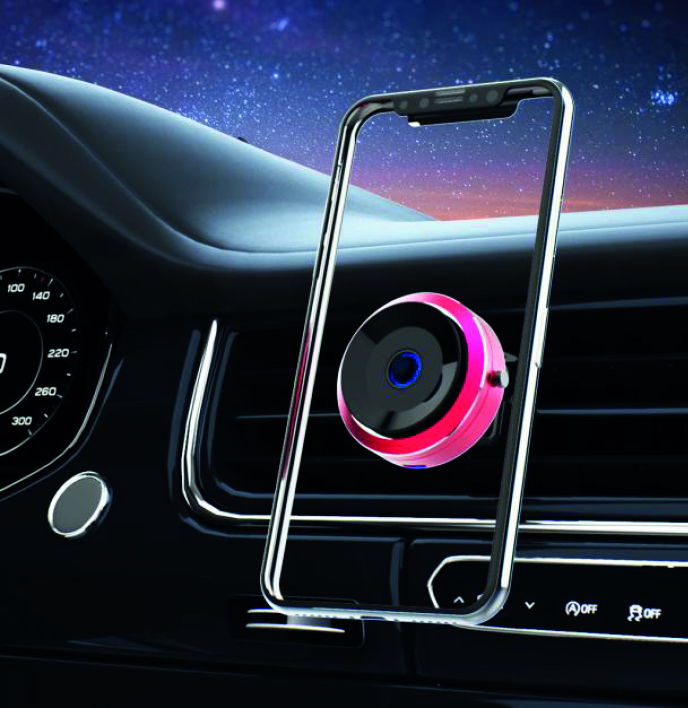 The unique MA05 holder is equipped with automatic cell phone presence detection and will firmly attach your phone by itself using the electric vacuum suction cup. This suction cup develops a vacuum pressure of up to 60kPa, allowing the holder to hold devices weighing up to 8kg!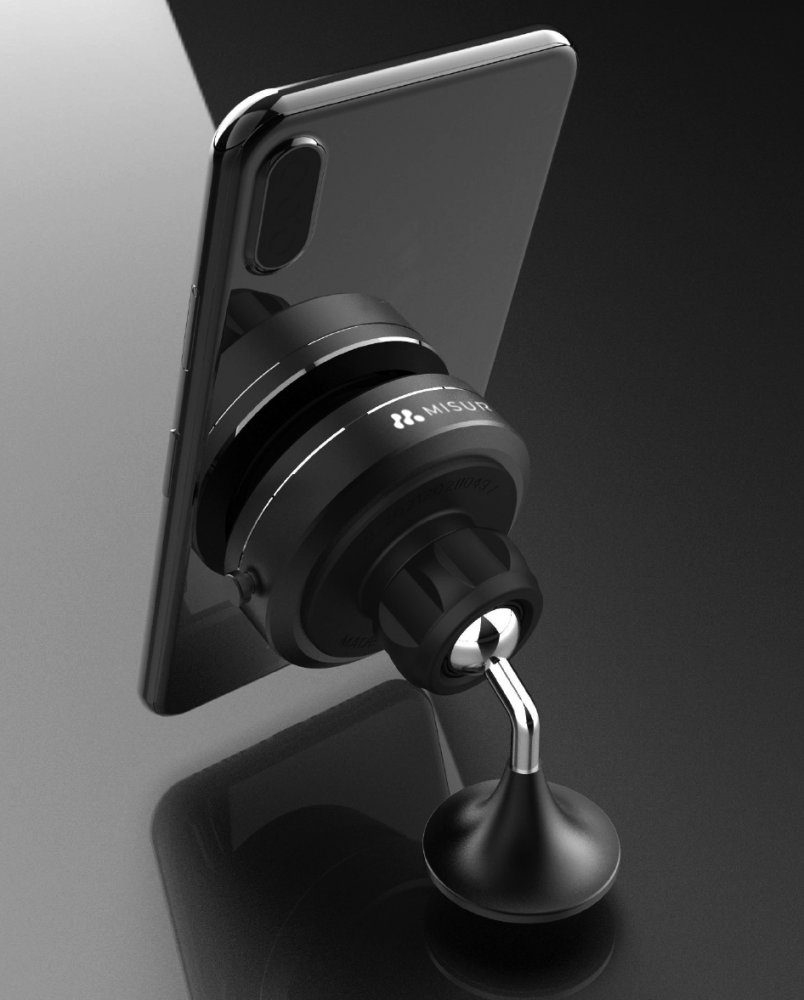 The MA05 mobile phone holder is equipped with an intelligent vacuum-level detection chip. This is automatically activated when the phone is placed on the suction cup of the mobile phone holder. An internal vacuum sensing device monitors the vacuum level in real-time. When the pressure is lower than the set value, the air pump immediately restarts to ensure sufficient force for long-term constant air adsorption. This ensures that the vacuum pressure value is consistent and stable.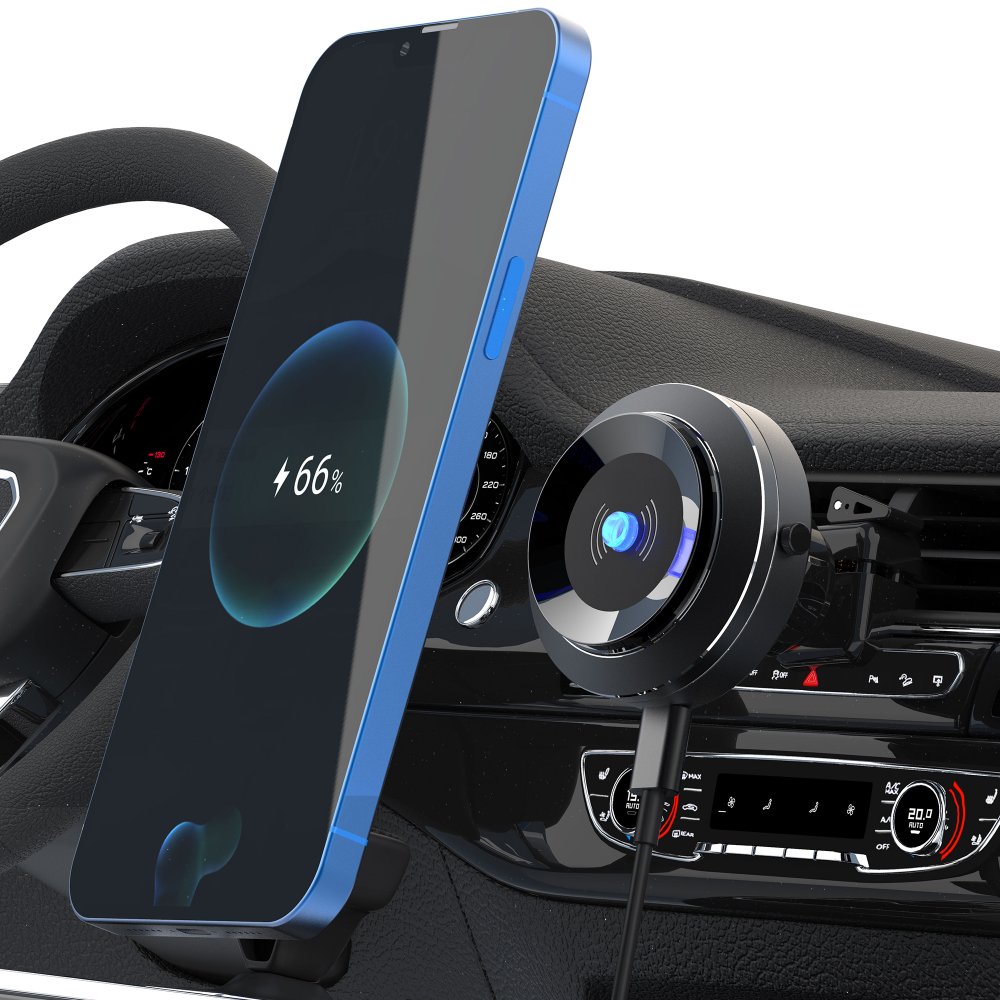 The MISURA MA05 mobile phone holder has a built-in QC3.0 wireless fast charging function. It supports wireless charging of mobile phones and other devices that conform to the WPC QI standard, such as the Apple series and Android series. The maximum charging power of this product is 15W.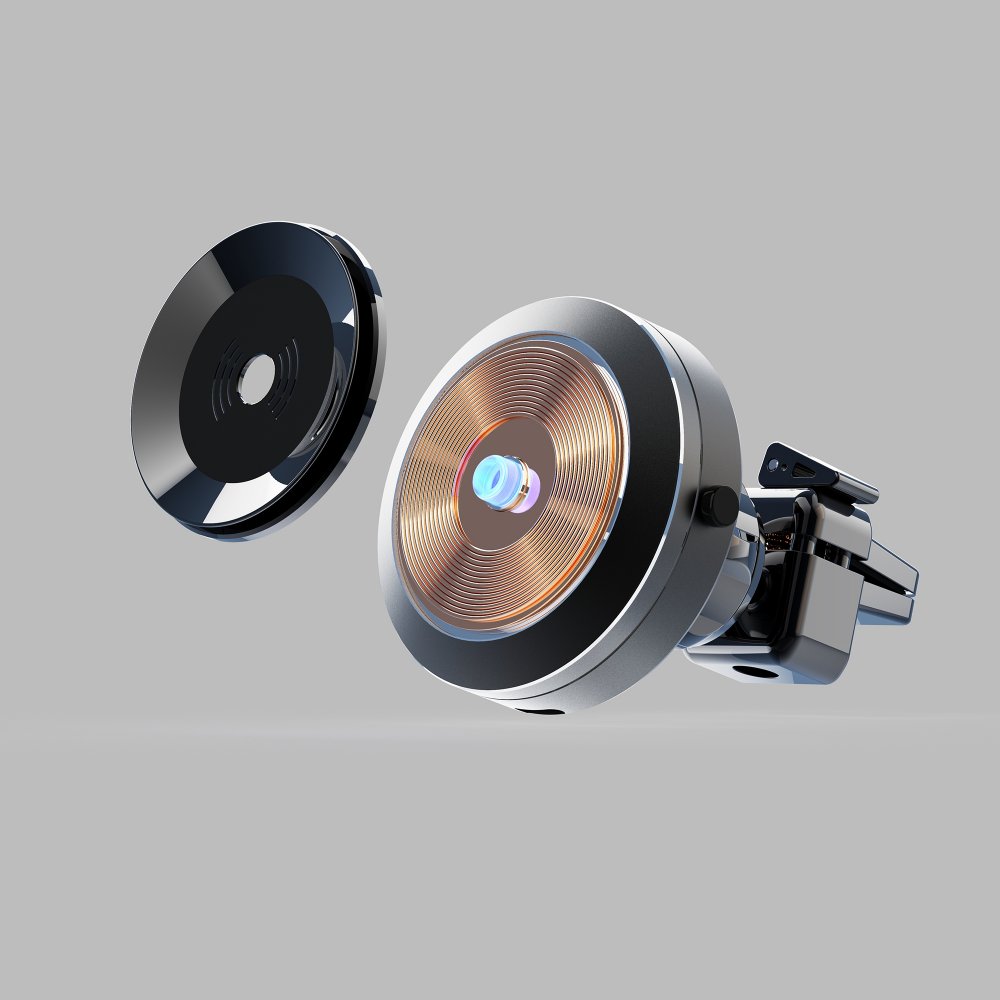 You can attach the holder with a suction cup on the glass or dashboard, or you can arrest the holder and attach it to the ventilation grille of your car, or attach it to the tabletop at home or work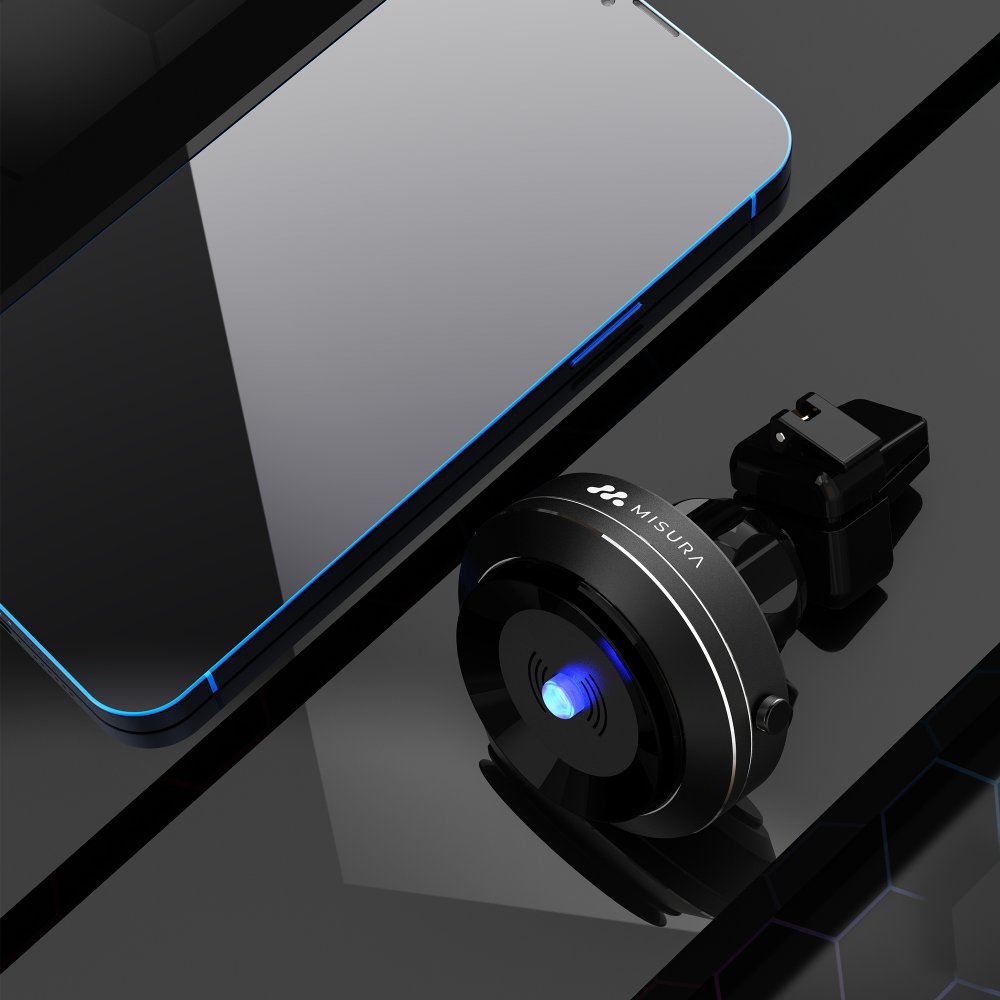 SPECIFICATIONS:
Model: MA05
Main material: high-quality aluminum alloy + PC + silicone
Supported Models: Smartphones over 4 inches diagonal (MISURA MA05 cell phone holder does not support breathable case materials or uneven cell phone cases)
Charging interface: type C
Battery capacity: 90 mA (built-in battery only works for air pump)
Input voltage: 5V/9V/12V+5% (can support QC, PD protocol adapter)
Rechargeable current: 2A
Wireless charging power: 5W/7.5W/10W/15W (backward compatible)

Conversion efficiency: > 73%
Charging standard: QI wireless charging protocol
Underpressure: MIN -20kPa ~ MAX -40kPa
Product size: 60×60×85mm
Product weight: 97g

The product is equipped with overheat protection, which automatically stops charging if the temperature is higher than 60° during charging.
The product is equipped with over-current protection, which automatically stops charging when the output current is higher than 2.5A during charging to avoid damaging the charger.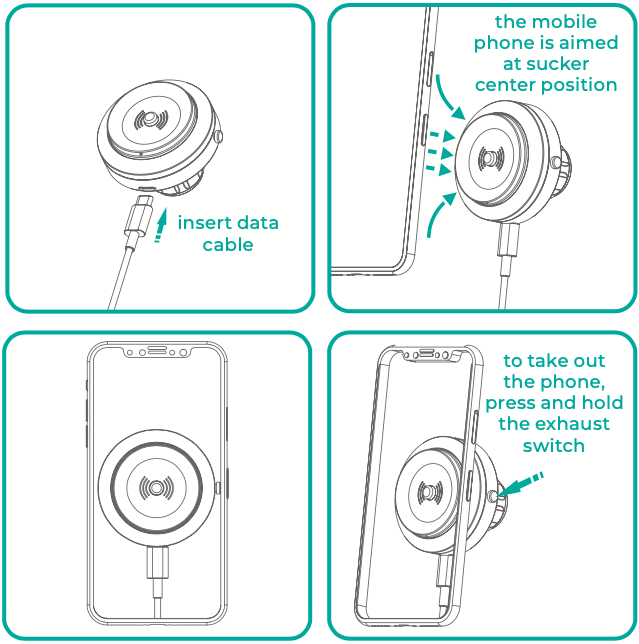 PACKAGE CONTENTS:
1 pc | Wireless Charger
1 pc | USB-C cable
1 pcs | Vent Holder
1 pcs | Telescopic base with the suction cup on glass
1 pcs | Desk Stand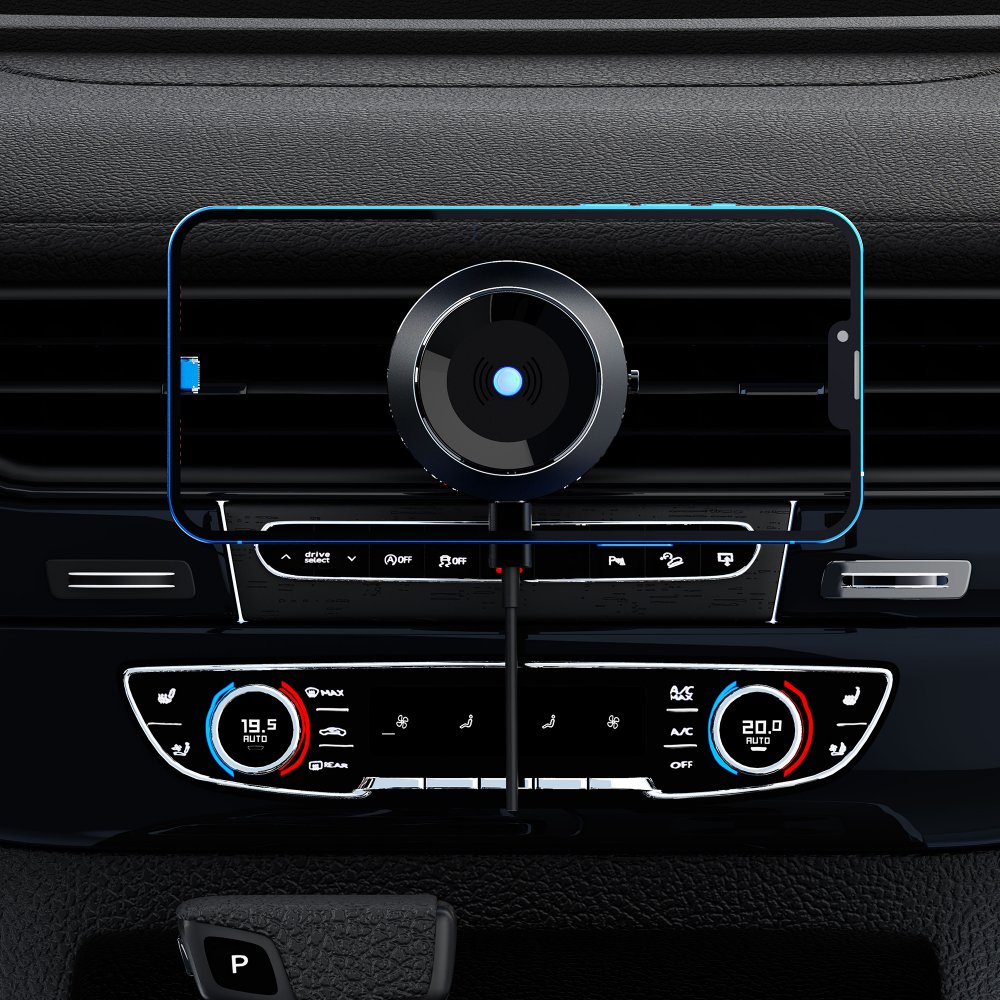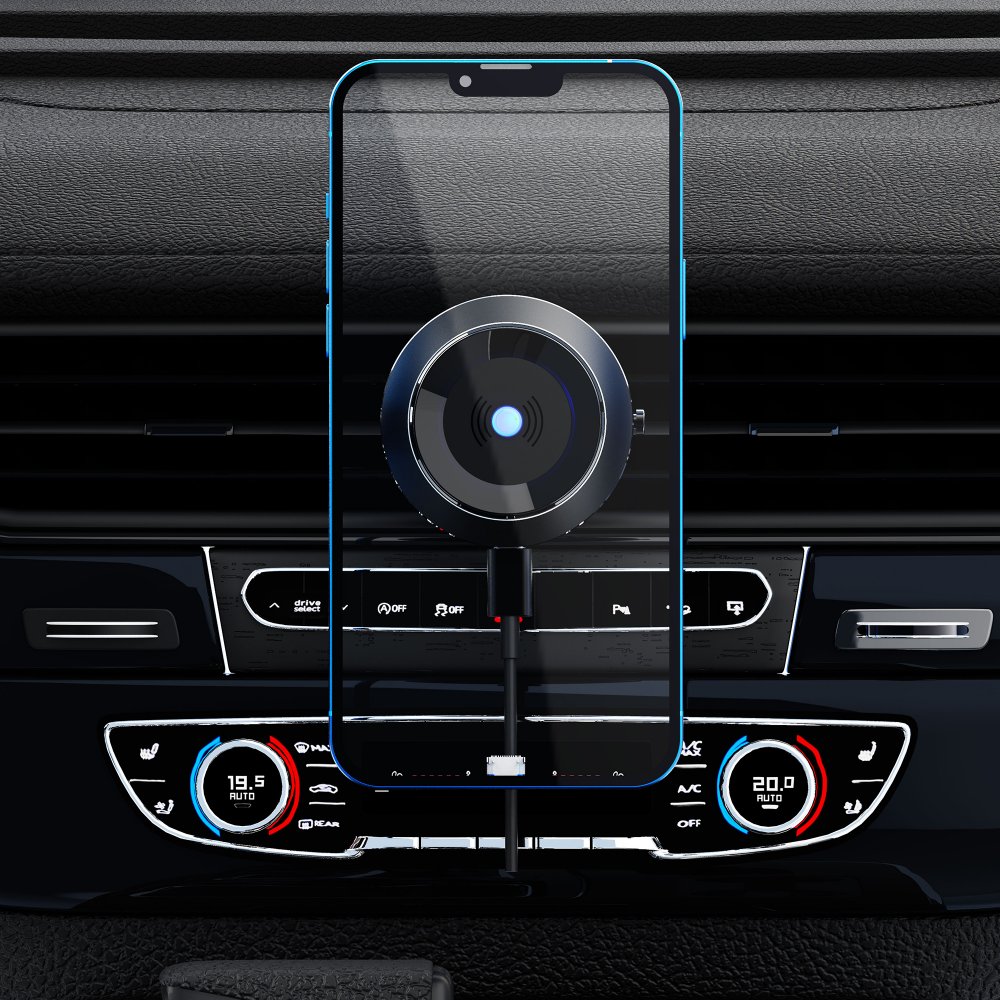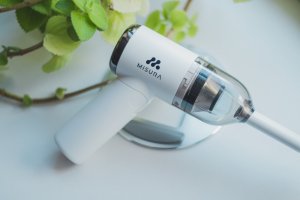 A cordless vacuum cleaner, mobile phone holders and foldable trash bins can make car journeys more pleasant. These are practical solutions that you can use even during longer drives, on business trips or trips with children, while camping, at home or in the office.